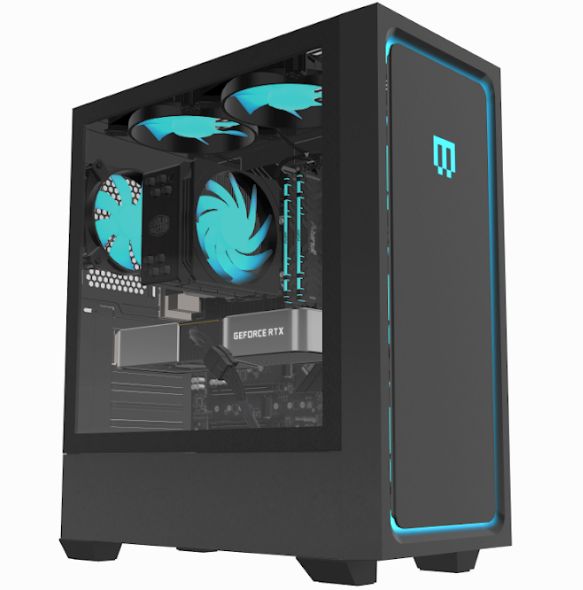 Warren, New Jersey (December 13, 2022) – MAIN GEAR — an award-winning system integrator for desktop, notebook and custom gaming workstation PCs — today announced that new AMD Radeon™ RX 7000 Series graphics cards, featuring the innovative AMD RDNA 3 architecture, are now available via MAIN GEAR.com. AMD Radeon™ RX 7900 XTX and Radeon™ RX 7900 XT are available for configuration within MAINGEAR's product line of award-winning custom gaming workstations and desktop PCs, including the new generation MG-1.
AMD Radeon™ RX 7000 series graphics cards set a new standard for ultra-enthusiast-class gaming performance, using advanced AMD RDNA™ 3 processing units for blazingly high clock speeds. The new AMD RDNA™ 3 chiplet technology, up to 24GB GDDR6 memory, and 2nd Generation AMD Infinity Cache™ also enable AMD Radeon™ RX 7000 series graphics cards to deliver smooth, high refresh rate gaming experiences at 4K and beyond. Those who pair AMD Radeon™ RX 7000 Series graphics cards with AMD Ryzen™ processors can utilize AMD intelligent technologies, unlocking even more performance.
AMD Radeon™ RX 7900 XTX and Radeon™ RX 7900 XT graphics are now available as a configuration option on multiple MAINGEAR gaming desktops, including PC Gamer's Editor's Choice award-winning F131, RUSH, R1 and new MG-1 .
MAINGEAR's brand new MG-1 desktop was designed in collaboration with top game creators and Michael "shroud" Grzesiek, co-owner of newly named MAINGEAR. The MG-1 leverages MAINGEAR's years of award-winning product design to provide gamers with an easily upgradeable desktop that supports the latest high-performance components and maximum user customization through a customizable and interchangeable magnetic front panel. Through the new MAINGEAR Live 3D Configurator, MG-1 buyers can equip the front panel of their new system with custom artwork or design to make it one of a kind.
MG-1 desktops are built for advanced performance, unlimited customization and pure simplicity. Pre-built MG-1 systems starting at $1,449, including MG-1:shroud Edition and custom configurations, are now available for purchase from MAINGEAR at www.maingear.com/mg-1. A certificate AMD™ advantage The MG-1 configuration with next-level performance will also be launched later this month.
About MAINGEAR
MAINGEAR is a high performance PC system integrator offering customized desktops, notebooks and workstations. Each system is handcrafted for precision performance and uncompromising quality and has won multiple Editors' Choice awards from publications such as PC Gamer, Hot Hardware, PC World, Maximum PC, Computer Shopper and more. With a passion for building the best and most innovative high-performance computers, MAINGEAR sets the standard among system integrators. For more information or to purchase a system, visit the site www.maingear.com. Follow on Facebook at facebook.com/maingear and Twitter at twitter.com/MAINGEAR.