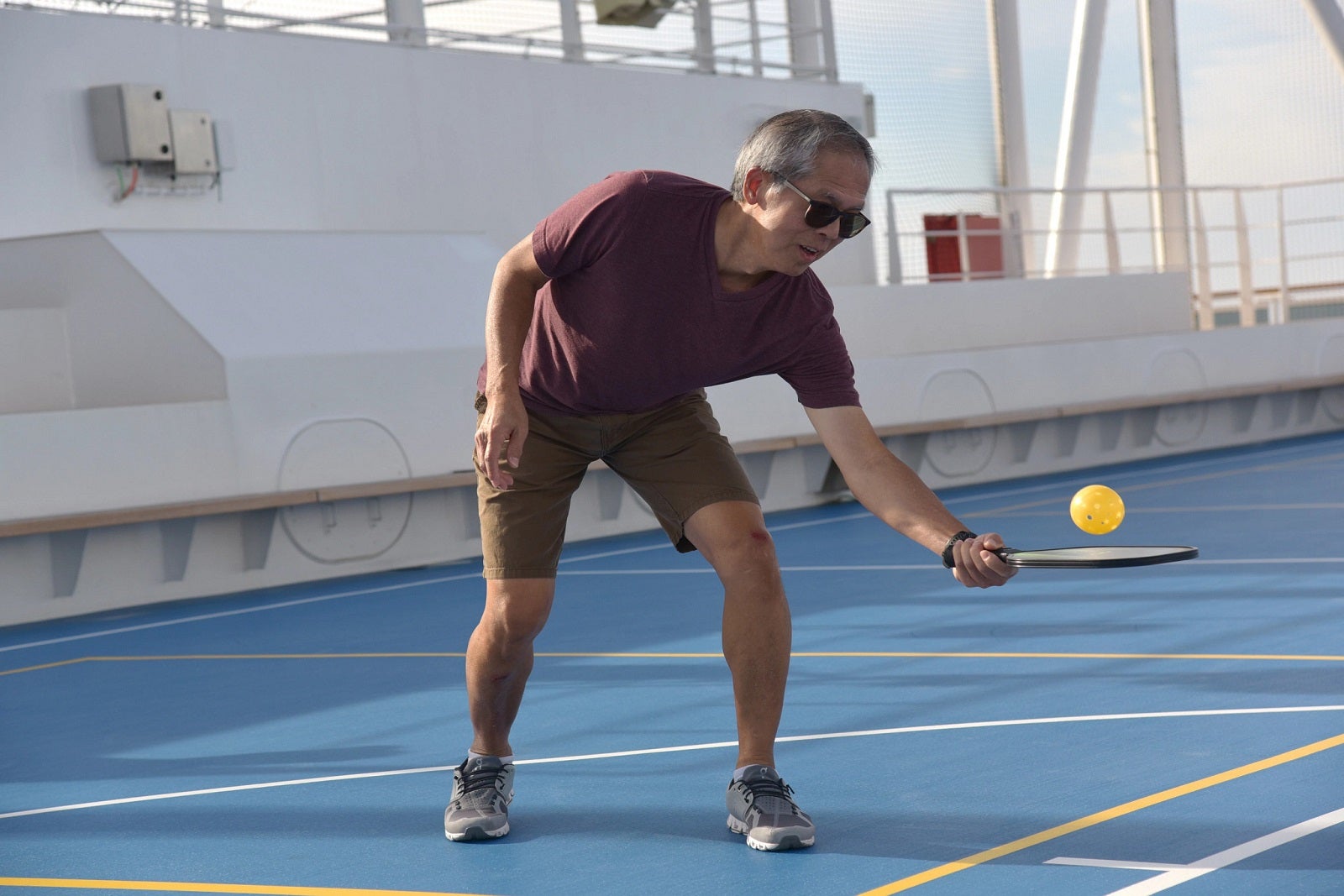 What's fast and slow, appealing to all ages, and soon to be amplified in Holland America's fleet? The answer might surprise you, especially since it's a sport, and sport isn't exactly synonymous with cruising.
It's pickleball, a tennis-like game played on a smaller court with solid, rectangular rackets, wiffle balls, and different rules. It was previously a popular game among retirees but is now one of the fastest growing sports in the United States, even for younger age groups.
So what does pickleball have to do with cruising? For years, Holland America Line has had courts on all of its ships, and now they've been named the Official Cruise Line of the Professional Pickleball Association.
Under the new partnership, the line will equip every single one of its ships with a new pickleball court by April 2023, and members of every fitness team on board will offer free beginner-level classes for passengers interested in learning the game.
"Wait a minute," you might think. "I remember playing it in gym class in high school. Is there such a thing as professional pickleball?" The answer is yes, and it is serious, with several major competitions held every year.
For more cruising news, guides and tips, sign up for TPG's Cruising Newsletter.
"We take pride in providing our guests with an elevated pickleball experience as they travel to spectacular and scenic cruise destinations," said Kacy Cole, vice president of marketing for Holland America Line, in a statement. "Mirroring its rapid growth as the fastest growing sport in the United States, pickleball is the most popular sport on our ships."
In addition to in-person instruction, Holland America will also offer video tutorials on televisions in its passenger staterooms, and cruisers will be able to purchase PPA Tour-branded equipment kits (prices to be determined) in the ships' onboard stores.
For anyone who doesn't need instruction, there will be open-play pickleball time scheduled on each voyage and equipment will be made available for loan for cruisers who don't wish to purchase their own kit.
Sign up for our daily newsletter
But Holland America isn't the only cruise line including sports in its activity list. Several ships in the Carnival Cruise Line, Royal Caribbean, Princess Cruises and Regent Seven Seas Cruises fleets also feature sports courts that can be used to play pickleball, along with set times for the game during each sailing.
"Pickleball has become immensely popular across the travel and leisure categories because it is uniquely accessible, compatible with a variety of brands, and transcends a broad spectrum of age groups and lifestyles," said Connor Pardoe, commissioner and CEO of the PPA Tour, in a statement.
"This ageless sport welcomes players young and old, fast or slow," added Theresa Haynie, a founding member of the Seattle Metro Pickleball Association and instructor of the International Pickleball Teaching Professional Association. "It's a fun game to teach and even more fun to learn. Now with shipboard pickleball through this wonderful partnership, cruisers and gamers alike have yet another adventure to enjoy and take home with them."
Have questions about the cruise? TPG has the answers: